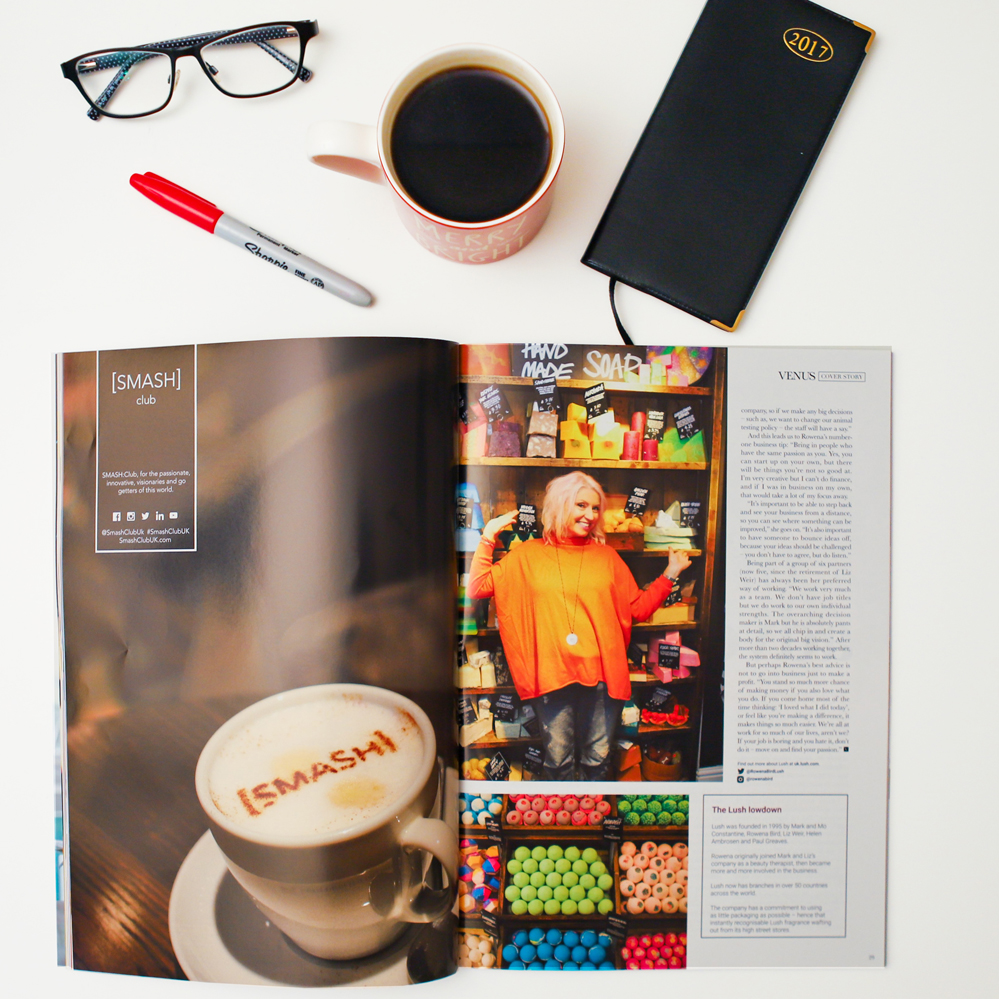 I was recently commissioned by the Venus Awards to create their new magazine cover & focus feature. For this edition, Rowena Bird, co-founder of Lush graced the cover.
Within the magazine, the art director & I had planned a special photo shoot to reveal of the finalists of the awards ceremonies within the pages.
But, back to the cover…
Rowena kindly invited us into her home for the photo shoot. The house décor was so incredibly colourful, and Rowena's personality so welcoming and cheerful, you'd never have guessed that it was a pouring down with rain outside and that it was 7.30am on a Monday…
While Anita took care of Rowena's hair & make-up, founder of the Venus awards Tara Howard & I, raided Rowena's closet and picked out her outfits, accessories & decided on our shooting locations.
The shoot itself was over within an hour before Rowena & I scooted off to her Poole shop to capture some images of her within her business.
My plotting with Art Director, Seb, was finally revealed! Within the glossy magazine housed the Dorset and Hampshire Finalists group photos that I'd taken at the respective finalist announcement events 8 weeks prior (with a few people photo shopped in! But you'd never have been able to tell)
The magazine was revealed on the Dorset Finals Night much to the delight of the finalists, having patiently waited 8 weeks to see their photos! It was lovely to see people engrossed in the articles on the awards night – sharing their finalists photos in anticipation.
So, pick up the magazine & have a read!
To finish off this blog post, here are my favourite unpublished shots from my photo shoot with Rowena….
Magazine: Venus Dorset & Hampshire Edition
Hair & Make-Up: Anita Kaur-Simon
Styling: Tara Howard & Zelda de Hollander
Photography: Zelda de Hollander